Screw Conveyor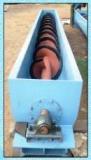 EQUIPMENT / SPARES FOR PROCESS PLANTS Fabricated Vapour Valves as per customers requirement Screw Conveyors Slat Chain
Conveyors Main / Auxiliary Cane Carriers Rake Conveyors Crystallisers / Coolers Mixtures / Minglers Low Pressure Lever Safety Valves Fuel
Preparation Equipments Trolleys Equipment / Pump Base Frames Exhaust Vent Silencers Thermic Fluid Heaters LED Based Uninterrupted
lighting systems LED Based Beacons with Alarms LED Night lamps Customised Equipment as per requirement. We are one of the leading
organization engaged in providing excellent quality Screw Conveyors, which are manufactured by using high grade material. These Screw
Conveyors are widely appreciated by our clients which are situated all round the nation. High in demand, these Screw Conveyors are available
at most reasonable prices.