Heavy Duty Cane Cutter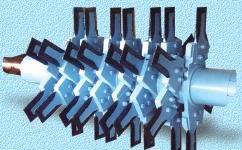 Heavy Duty Came Cutter Energy Efficient Size as per customers requirements Either Welded Knives or with Domite tips Suitable for Leveller,
Cutter or Head-on Good preparation and long life Easy knife removable versions available. We are producing an excellent quality range of Cutters.
Our Cutters are available in various sizes and specifications. These Cutters can be customized as per our customers specifications
and availed at industrial leading price.